PhyloMapper 1.0 beta 1 September 29, 2008
The first beta release of PhyloMapper is finally available.
Before you download the software, please register by sending an email to phylomapper@evotutor.org with REGISTRATION in the subject line. No text is needed in the body of the email (unless you want to say hi).
***NOTE this is a PRERELEASE version. There are some parts of the user's manual that are incomplete and some parts of the code that still need to tweaked. Use at your own risk. Feel free to use this version to get used to the software and to obtain preliminary results, but I would wait until the next release before publishing any analyses from PhyloMapper.
I will release a second version soon which will fill out some of the missing pieces that I did not have time to get to before this deadline:
1) An example file for the randomization tests
2) An example file for the phylogenetic uncertainty analysis
2) **Information and code for plotting results in R to make your life much easier (like Figures 2, 3 and 4 of Lemmon and Lemmon 2008).
3) Fixes for some known bugs.

Click here to download PhyloMapper1b1.
Click here to download the manuscript describing this method.


ANNOUNCMENTS:
The last equation of Lemmon and Lemmon 2008 (Syst. Biol. 57:544), page 547, should read: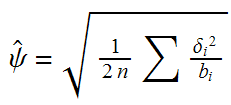 The error was introduced during the copyediting process.

//////////////////////////////////////////
Accepting Graduate Students for Fall 2009

The new lab of Alan R. Lemmon in the Department of Scientific Computing at Florida State University (Tallahassee) is now accepting Ph.D. students interested in studying phylogenetics, phylogeography, speciation, and/or population genetics. Members of the lab are encouraged (but not required) to develop independent projects that combine aspects of theoretical (statistical/computational) and empirical evolutionary biology. The current focus of the Lemmon lab is to develop statistical methods for phylogeography and phylogenetics using genomic data, as well as to development large numbers of nuclear markers using pyrosequencing techniques.
The Department of Scientific Computing at Florida State University (http://www.csit.fsu.edu/) is a unique, interdisciplinary group of faculty and students who test scientific questions and develop methods by applying computational and statistical techniques to interesting problems in Biology, Physics, Mathematics, Geology, and Chemistry.
Dr. Lemmon is also a member of the Department of Biology, which allows him to advise students with primarily empirical projects.

Members of the Lemmon Lab have access to the following resources:

Top-ranked High Performance Computing Facility (1500+ cores)
State of the art genetics lab
Reduced rate at University of Florida Genome Center
Certified Nimblegen Microarray Facility
State of the art equipment for behavioral experiments
State of the art live animal facility
Apalachicola National Forest (minutes from campus!)


Interested individuals should visit the lab website (http://www.evotutor.org/LemmonLab/), as well as contact Dr. Lemmon directly (alemmon+"at"+evotutor.org).
//////////////////////////////////////////